KNOW / KNOW HOW
Exercise-1
Choose the correct form of know or know how in these sentences.
1. If he __, he would lend his car.
2. I don't __ to use the card catalog in the library.
3. Until he came to the United States to study, he didn't __ to cook.
4. Do you __ to type?
5. You'll have to help her because she doesn't __ to do it.
6. Although Mark has been cooking for many years, he still doesn't__ to
prepare French food in the traditional manner.
7. Marcy said that she __ the procedures for doing the experiment, but when
we began to work in the laboratory, she found that she was mistaken.
8. Did you __ that the actors' strike would delay the beginning of the new
television season and cause the cancellation of many contracts?
9. He __ to repair the carburetor without taking the whole car apart.
10. George __ he could improve his test scores, but he did not have enough
time to study.
11.The director of this organization must __ to manage money, sell his product,
and satisfy the stockholders.
12. A good student must __ to study effectively.
13. It is extremely important for an engineer to __ to use a computer.
ex.1
| | | | |
| --- | --- | --- | --- |
| 1. knew | 5. know how | 9. knows how | 13. know how |
| 2. know how | 6. know how | 10. knew | |
| 3. know how | 7. knew | 11. know how | |
| 4. know how | 8. know | 12. know how | |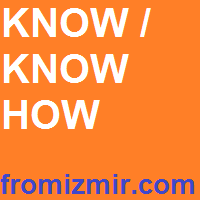 http://https://www.youtube.com/watch?v=vrPZG3KCfMc