TOEFL Grammar
Toefl Grammar App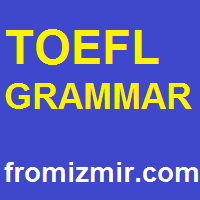 TOEFL Grammar App
TOEFL Grammar
At present many people want to study or to work abroad, or to work for a foreign.  İf your plans are connected with working or
studying in the USA, you have to pass the TOEFL (Test of English as a Foreign
Language). The TOEFL is a timed test that consists of four sections:  I. Listening Comprehension (50 questions — 40 minutes); II. Structure and Written Expression (40 questions — 25 minutes); III. Vocabulary and Reading Comprehension (50 questions — 55 minutes); IV. Writing (30 minutes).
The maximum total score is 300 points.
It is assumed that students have studied grammar prior to reviewing for the
TOEFL, and that they are relatively fluent. The purpose of blog then, is to
provide students with a detailed review of the language skills for the Structure and
Written Expression section of the TOEFL, to sharpen these skills and to improve
accuracy. TOEFL Grammar Review is divided into five parts covering the most frequently
tested problems necessary to pass Section 2 of the TOEFL. Part I shows differences
between American and British English. Parts II-IV include practice exercises designed
to improve the ability to recognize grammar and correct style in Written English. Two
TOEFL Structure and Written Expression Practice Tests included in Part IV will allow
to measure their ability to answer grammar questions in the TOEFL format. Part V
contains exercises testing American idioms.  The TOEFL Grammar Review includes answer keys which enable to use this
work blog as a self-study guide for independent out-of classwork.